Amidst the hum of construction, a new campus is taking shape.
"Longwood has always enjoyed a strong sense of place, rooted in our classically beautiful campus. Now we are building on that strength to meet the needs of today's students, while remaining true to our core values as a residential campus and learning community."
W. Taylor Reveley IV, President
Transformation is at the heart of the Longwood experience, and this year the campus itself is being transformed with a captivating list of projects, headlined by a new campus nucleus: the Norman H. and Elsie Stossel Upchurch University Center.
Meanwhile, in various stages of development, are a new alumni center, a re-investment in core campus living spaces to reinforce the residential character of Longwood, a stunning student success center equipped with modern technology, and several renovations to existing buildings. The Upchurch University Center is expected open in 2017, and when the full list of projects come to fruition, Longwood's traditionally beautiful campus will be invigorated by new buildings inspired by, and reflecting, the arresting traditional architecture that defines the university's best-known buildings like Ruffner, French and Grainger.
In total, the campus is the beneficiary of $115 million in physical investments over the next three years, driven by private philanthropy and capital commitments from the General Assembly to Longwood's future.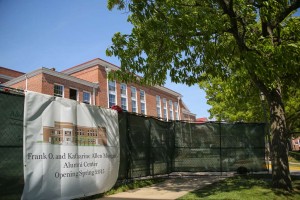 "This really is a historic transformation of Longwood, but our marching orders with each of these projects have been to make Longwood the same, but better," said President W. Taylor Reveley IV. "These buildings reinforce our commitment to our core values—an on-campus residential experience for students, deeply personal teaching and learning from faculty to mentors, and the development of citizen leaders in a community setting."
While construction is ongoing, efforts have been taken to mitigate the inconvenience to students, faculty and staff. Where possible, walking lanes around construction zones have been established, and much of the work that started in summer 2014 will conclude by spring semester 2015. University planners have also worked to reduce disruption to normal student activities where possible—taking measures like ceasing work on Dorrill Dining Hall during busy lunch hours.

UPCHURCH UNIVERSITY CENTER
Expected completion: 2017
THE BEATING HEART OF CAMPUS
Already, students lounge in Beale Square near the iconic Ruffner Fountain—the subject of a popular Twitter feed—doing some last-minute cramming or gathering with friends between classes. A natural campus hub, the square sits behind historic Ruffner Hall and serves as the entry to picturesque Brock Commons.
With the completion of the Upchurch University Center in 2017, students will have even more reasons to congregate at the bustling square.
Fall 2014
Deconstruction of the  Cunninghams begins.
Spring/Summer 2015
Conclusion of Cunninghams deconstruction; commencement of Upchurch University Center construction.
2017
Upchurch University Center opening
Accessible from Brock Commons, the Upchurch University Center will offer modern amenities designed for today's students.
MULTIPLE FOOD OPTIONS, including a coffee shop
LOUNGE SPACES with comfortable furniture
MULTIPURPOSE STUDY ROOMS with the latest technology
MEETING ROOMS for student organizations and clubs
CABARET, a student event and production space
ADMINISTRATIVE OFFICES for student support
"We are putting student needs first, the Upchurch University Center will be modern, wired and designed to fit the needs of our growing, thriving campus. It is hard to overstate how much this will impact campus life; it truly will be a place students can call home."
Tim Pierson, Vice President For Student Affairs
Maugans Alumni Center
Expected completion: Spring/Summer 2015
A HOME FOR GRADUATES
It's been a dream for decades: A campus so steeped in history and tradition—the third-oldest public university in Virginia and one of the hundred oldest in the nation—should have a home for its alumni to return to their alma mater.
The dream will be realized in the Frank O. and Katharine Allen Maugans Alumni Center, currently under construction and slated to open in late spring/early summer 2015.
Spring 2014
Portions of Blackwell Hall closed; construction began on the Maugans Alumni Center
Spring/Summer 2015
Maugans Alumni Center opening
In addition to the Office of Alumni Relations, the Maugans Alumni Center will be home to Longwood's fundraising arm, University Advancement, and the Longwood University Foundation. It will feature several purposeful spaces:
A two-level lobby and stairs connecting the ground and main levels
Boardroom
Three multiuse seminar rooms
New south and west entrances
New landscape connecting Beale Plaza with the new French Plaza
"The Maugans Alumni Center will underscore the important place Longwood graduates have on this campus. Not only will we have space for alumni to gather when they return to campus, we'll have space to tell Longwood's story in a way it hasn't been told before."
Nancy Shelton '68, Associate Vice President of Alumni Relations
Student Success Center
Expected completion: Winter 2016
FOCUS ON ACHIEVEMENT
Students come to Longwood to learn the skills to become the citizen leaders of tomorrow—at the heart of that is a strong liberal arts education. The university is committed to providing students with the resources and support to achieve at the highest possible level in the classroom.
Students who walk into the new Student Success Center, a 25,000-square-foot building located between the Lankford Student Union and Greenwood Library, will be met with all those resources and support. Clustering services like the Center for Academic Success and First Year Experience under one roof provides the kind of convenience students want while increasing the likelihood of long-term academic success.
French Hall
Expected completion: Spring 2015
WIRED FOR THE FUTURE
Two decades of exponential growth in technology have changed the way the world operates, in a global sense. On college campuses, students require better, faster tools to prepare for professional life. French Hall delivers on that need.
One of the six brick Jeffersonian buildings built in the 19th century that served as the original core of campus, French Hall's historic exterior remains largely intact, while the interior is solidly in the 21st century. Once a residence hall, the building is now home to the University Technology Center, Assessment and Institutional Research Office, and a radio and television education facility.
Inside, there are attractive and functional spaces offering stunning views of both campus and downtown Farmville. Outside, a new portico and entrance on the south side of the building open to a plaza and greenway that will connect to Brock Commons.
Construction is complete and several departments have moved into French Hall. The radio and television facilities will be complete by spring 2015.
Sophomore Residence Hall
Expected completion: Spring 2016
RE-INVESTMENT IN CAMPUS LIVING
A major trend on college campuses is investing in services for commuter and online students—denizens of our increasingly remote world. Longwood, while maintaining its commitment to remote students, proudly emphasizes its commitment to on-campus student life. The deep camaraderie that thrives at Longwood is evidence of campus's residential nature—our traditions and symbiotic relationship with historic Farmville.
With that firmly in mind, and with the major renovation of historic Stubbs Hall complete for the 2014-15 academic year, Longwood is constructing a sophomore residence hall in the ARC quad, two smaller buildings which will each house approximately 100 students.
At Longwood, we recognize the benefit of small, human-scale communities—placing students in living situations that mimic neighborhoods and foster interaction. That's what keeps campuses vibrant and stimulating.
Spring 2015
Construction on residence hall begins
Summer 2016
Construction concludes
Fall 2016
New hall opens to incoming students
200

students who will live in the new residence hall

$16 mil.

total cost

53,000

square feet
"Longwood has always valued the residential experience, and students continue to want live on or close to campus," said Dean of Students Larry Robertson. "Longwood is growing, and this additional residence hall will allow us to give future Lancers the experience that they deserve."
Dorrill Dining Hall
Expected completion: Spring 2015
Replacement of the roof of Dorrill Dining Hall is under way. D-Hall is one of the most used buildings on campus. With a seemingly endless stream of students in and out of its doors, student convenience and safety are a priority during the work. Overhead door protection has been installed at each entrance of the building for pedestrian safety, and fencing has been installed on a portion of Iler Field to surround a work area. Construction is halted daily at peak lunch time, 12:30 to 1:30 p.m., for student comfort.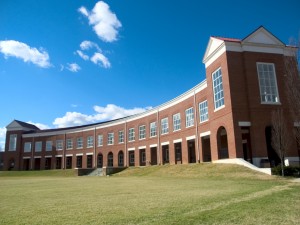 Willett Hall
Expected completion: Spring 2015
As part of updating existing buildings to meet modern standards, the heating, ventilation and air conditioning system in Willett Hall—home to the basketball arena and the health, athletic training, recreation and kinesiology department—will be replaced. The basketball teams will be treated to an additional perk, however. Along with the HVAC upgrade, the gym floor will be refinished and boast Longwood's new logo in time for the season tipoff.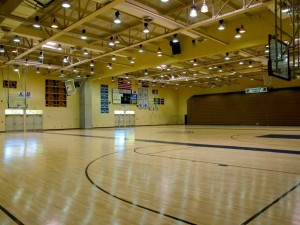 Environmental Studies Building
Expected completion: Spring 2015
The walls of Chichester Hall are lined with research posters students have presented at conferences around the country. Many of those projects have their roots right here in Farmville. To boost that research, a 2,400-square-foot interdisciplinary environmental research facility is nearing completion at nearby Lancer Park. Designed to foster collaboration, the facility features a large classroom and modern research area. Nearby is a large pond that is already the site of several projects.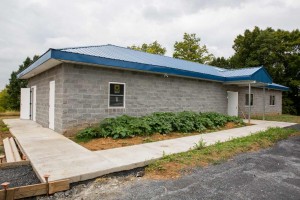 Planned Construction
In addition to the current projects, two buildings are in the planning phase: an academic building that will be built behind French Hall and an admissions building that will take the place of current Crafts House. Both projects are in the planning phase and construction is not yet finalized.